Drought Tolerant Perennials

---
06/30/2009
Ask any seasoned gardener and they will tell you stories of their watering woes. "We never had to worry about water shortages before, watering only on even or odd numbered days, or any of this! It seems like we could depend more on the spring rains back then too, but when it was dry we simply got out the hose and watered our garden. Nowadays, we have to sneak out at night to water like we're criminals!"
Be sure to check out the extensive list of drought tolerant perennials below. Keep in mind that some are more drought tolerant than others. For detailed information on each perennial listed below, check out our Perennial Library on www.perennialresource.com.
What does a drought tolerant perennial look like?
The words "drought tolerant" often conjure up images of barrel cacti and aloe plants growing in the desert. While these plants are certainly drought tolerant, there are many others to consider. Often, drought tolerant plants have a unique leaf structure such as:
Fine lacy foliage — reduced leaf surface means less water lost through surface evaporation
Thick, succulent or waxy leaves

—

thick leaves store more moisture
Hairy or fuzzy leaves

—

fine hairs keep moisture trapped at the leaf surface
Many drought tolerant plants also have deep roots that seek moisture well below the soil surface. Some send up masses of fine feeder roots to collect available moisture at the surface and send it down below to the main roots.
Where do drought tolerant plants grow best?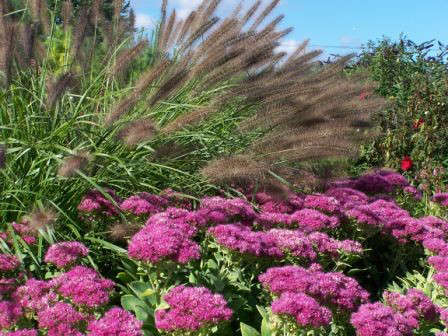 Pennisetum a. 'Red Head' and Sedum s. 'Neon' make excellent companions because they both share the cultural requirements: full sun and well-drained soil. As an added bonus, they both bloom in late summer, putting on an excellent show in the landscape!

Most drought tolerant plants perform best in hot, dry climates in full sun and well-drained soil. The most obvious form of this climate is desert, but you might not realize that parts of the average homeowner's yard which are perpetually dry are ideal places to grow drought tolerant plants. They can be used quite effectively where it is difficult to water or where water evaporates quickly such as on sunny slopes or next to pavement. It's best to group drought tolerant plants together in the landscape so they're easier to manage.



I need specific cultural information about drought tolerant plants. Where can I get it?
www.perennialresource.com. A detailed plant record for every perennial listed below can be found on our consumer website. Here are some general guidelines for the culture of drought tolerant plants.
Soil

—

Well-drained, loose soil is essential to the survival of drought tolerant plants. The loose soil structure allows their roots to grow deep down where the moisture is held. Many of these plants also benefit from the addition of organic matter to the soil, which helps add nutrients and hold moisture. If your soil is heavy, add small pebbles or coarse sand to improve drainage.
Water

—

Even the most drought tolerant perennials require supplemental water until they are established.

The smaller the root system, the more water they'll need, but the general rule is one inch of water per week (including rain). Less frequent but deep waterings are better for plants than more frequent but light waterings because it encourages them to send their roots down deeper into the soil. As the plants begin to grow and thrive on their own, gradually decrease the amount of supplemental water.

Mulch

—

Mulch your drought tolerant perennials with about two inches of organic material such as shredded bark or leaves. Do not use stone as a mulch--it holds heat and reflects light which can damage the plants.

Stokesia l. 'Honeysong Purple', a native American wildflower, is widely grown in the south due to its heat and drought tolerance. It is very easy to grow and rewards you with a profusion of blooms from midsummer into early fall.

Fertilizer

—

Use fertilizer sparingly on drought tolerant plants. If they begin to show signs of decline or discoloration, it's time to fertilize.

Division

—

Most drought tolerant perennials will perform admirably for years without being divided. Exceptions include the most vigorous or prolific perennials such as daylilies, hostas, and tall bearded irises.
Drought Tolerant Plants
Achillea (Yarrow)
Aegopodium (Snow-on-the-Mountain, Bishop's Weed)
Agastache (Anise Hyssop)
Ajuga (Bugleweed)
Alcea (Hollyhocks)
Alchemilla (Lady's Mantle)
Anthemis (Golden Marguerite)
Arabis (Rock Cress)
Arenaria (Mountain Sandwort)
Armeria (Common Thrift, Sea Pinks)
Artemisia (Wormwood, Silver Mound Artemesia)
Asclepias tuberosa (Butterfly Weed)
Astilbe chinensis (Chinese Astilbe)
Aurinia (Basket-of-Gold, Perennial Alyssum)
Baptisia (False Indigo)
Belamcanda (Blackberry Lily)
Buddleia (Butterfly Bush)
Calamagrostis (Feather Reed Grass)
Calamintha (Calamint)
Caryopteris (Blue Mist Shrub)
Centaurea (Perennial Bachelor's Button)
Centranthus (Red Valerian, Jupiter's Beard)
Cerastium (Snow in Summer)
Coreopsis (Tickseed)
Cortaderia (Pampas Grass)
Delosperma (Ice Plant)
Dianthus (Pinks)
Digitalis (Foxglove)
Echinacea (Coneflower)
Echinops (Globe Thistle)
Erianthus (Ravenna Grass)
Euonymous (Purple Leaf Wintercreeper)
Euphorbia (Cushion Spurge)
Festuca (Blue Fescue)
Gaillardia (Blanket Flower)
Geranium sanguineum (Hardy Geranium, Cranesbill)
Gypsophila (Baby's Breath)
Hedera (English Ivy)
Helictotrichon (Blue Oat Grass)
Helleborus (Lenten Rose)
Hemerocallis (Daylily)
Heuchera (Coral Bells)
Hosta
Iberis (Candytuft)
Incarvillea (Hardy Gloxinia)
Iris-Tall Bearded
Kniphofia (Red Hot Poker)
Lamium
Lavandula (Lavender)
Liatris (Gayfeather, Blazing Star)
Linum (Flax)
Liriope (Lily-turf)
Malva (Hollyhock Mallow)
Miscanthus (Maiden Grass)
Nepeta (Catmint)
Oenothera (Sundrops, Evening Primrose)
Pachysandra (Japanese Spurge)
Paeonia (Peony)
Panicum (Switch Grass)
Papaver (Poppy)
Pardancanda (Candylily)
Pennisetum (Fountain Grass)
Penstemon (Beardtongue)
Perovskia (Russian Sage)
Phlox subulata (Creeping Phlox)
Pulmonaria (Lungwort, Bethlehem Sage)
Rudbeckia (Black-Eyed Susan)
Salvia (Perennial Salvia)
Saponaria (Rock Soapwort)
Schizachyrium (Little Bluestem)
Sedum (Stonecrop)
Sempervivum (Hen & Chicks)
Stachys (Lamb's Ear)
Stokesia (Stokes' Aster)
Tanacetum (Painted Daisy)
Thymus (Creeping Thyme)
Verbascum (Mullein)
Vinca (Myrtle, Periwinkle)
Yucca (Adam's Needle)